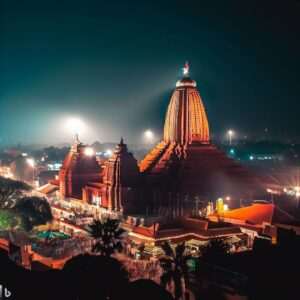 Lord Jagannath Temple, Puri, Odisha, India
Jagannath Temple is a significant Hindu temple dedicated to Lord Jagannath, a form of Lord Vishnu, located in Puri, Odisha, India.
Here are some interesting facts about the temple:
The temple was built by King Anantavarman Chodaganga Deva in the 12th century CE.
The temple is one of the Char Dham pilgrimage sites in India.
The temple is built in Kalinga architecture style, which is a blend of Kalinga and Dravidian styles.
The main temple tower stands tall at about 65 meters high and is called 'Deula'.
The temple complex comprises an area of approximately 10.7 acres and is enclosed by two rectangular walls.
The temple has four structures called (a) the Vimana or Bada Deula sanctum sanctorum) (b) the Jagamohan or Mukhasala (the porch), (c) the Natamandir (the audience hall) and (d) the Bhogamandap (the hall for residuary offerings) built in a row in an axial alignment in east-west direction.
The temple faces east and consists of four-fold vertical divisions, i.e., the Pitha (pedestal), the Bada (wall), the Gandi (trunk), and the Mastaka (the head).
The icon of Jagannath is made of wood and ceremoniously replaced every twelve or nineteen years by a replica, in contrast to the stone and metal symbols found in most Hindu temples.
The temple is famous for its annual Ratha Yatra, or chariot festival, where three principal deities are pulled on huge and elaborately decorated temple cars.
The temple has many enigmatic activities without any scientific explanations that have caught travelers' eyes worldwide, such as:

The flag mounted on top of the Jagannath Temple flows in the opposite direction to the wind's course without any scientific background to back it up.

Every day, a priest scrambles the walls of the temple with a height equivalent to that of a 45-story building to change the flag atop the temple dome. This ritual dates far back to the day the temple was built.

The temple is reported to have no shadow at all at any time of day from any directions possible.
I hope you find these facts interesting!